Golf Week by Voyages.golf heads to New Zealand's Queenstown in 2024. After running the inaugural Golf Week in Fiji in 2022, Fiji Golf Week 2023 has sold out. Voyages.golf has recently released Queenstown Golf Week to run between Saturday 03 and Saturday 10 February 2024 with seven nights' accommodation at the IHG Crowne Plaza Hotel overlooking Lake Wakatipu.
Golf Week is all about heading to one destination, taking things slower and getting to know a destination including the region's best golf courses. For 2024, we are excited to bring this fun-filled event to New Zealand's South Island. Queenstown, New Zealand is a must-visit destination for any avid traveler seeking a unique and awe-inspiring experience. Nestled amidst stunning natural scenery, Queenstown offers a range of thrilling outdoor activities such as bungee jumping, skydiving, and jet boating. The town has several world-class golf courses for golf travel enthusiasts. The region's natural beauty is breathtaking, with mountain ranges, pristine lakes, and rolling hills providing a stunning backdrop for visitors.
For golf aficionados, Queenstown has two world-renowned golf courses ranked in the top NZ Golf Courses: Millbrook Golf Resort and Jacks Point Golf Club. Millbrook Golf Resort features 36 championship holes spread across a sprawling 500-acre estate; the Remarkables and Coronet Courses comprise 18 holes each. The resort also boasts a luxurious spa, a health and fitness center, and several dining options.
Jacks Point Golf Club is another impressive golf course located in Queenstown. The course features 18 holes set against the stunning backdrop of the Remarkables mountain range and Lake Wakatipu. The course was designed by John Darby and is known for its unique landscape and challenging holes with a stunning backdrop of Lake Wakatipu and The Remarkables Mountain Range. We play this course twice during Queenstown Golf Week in 2024.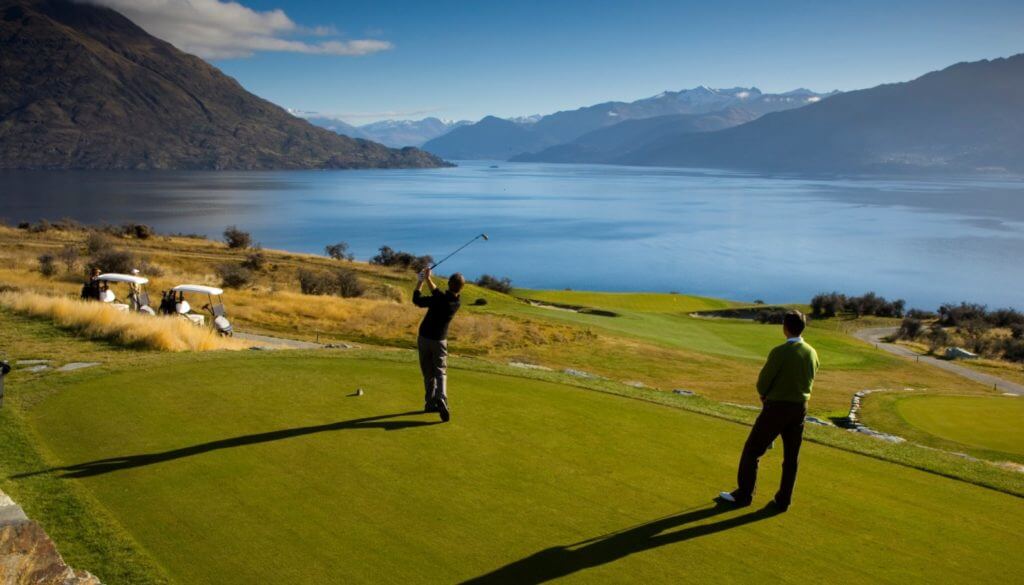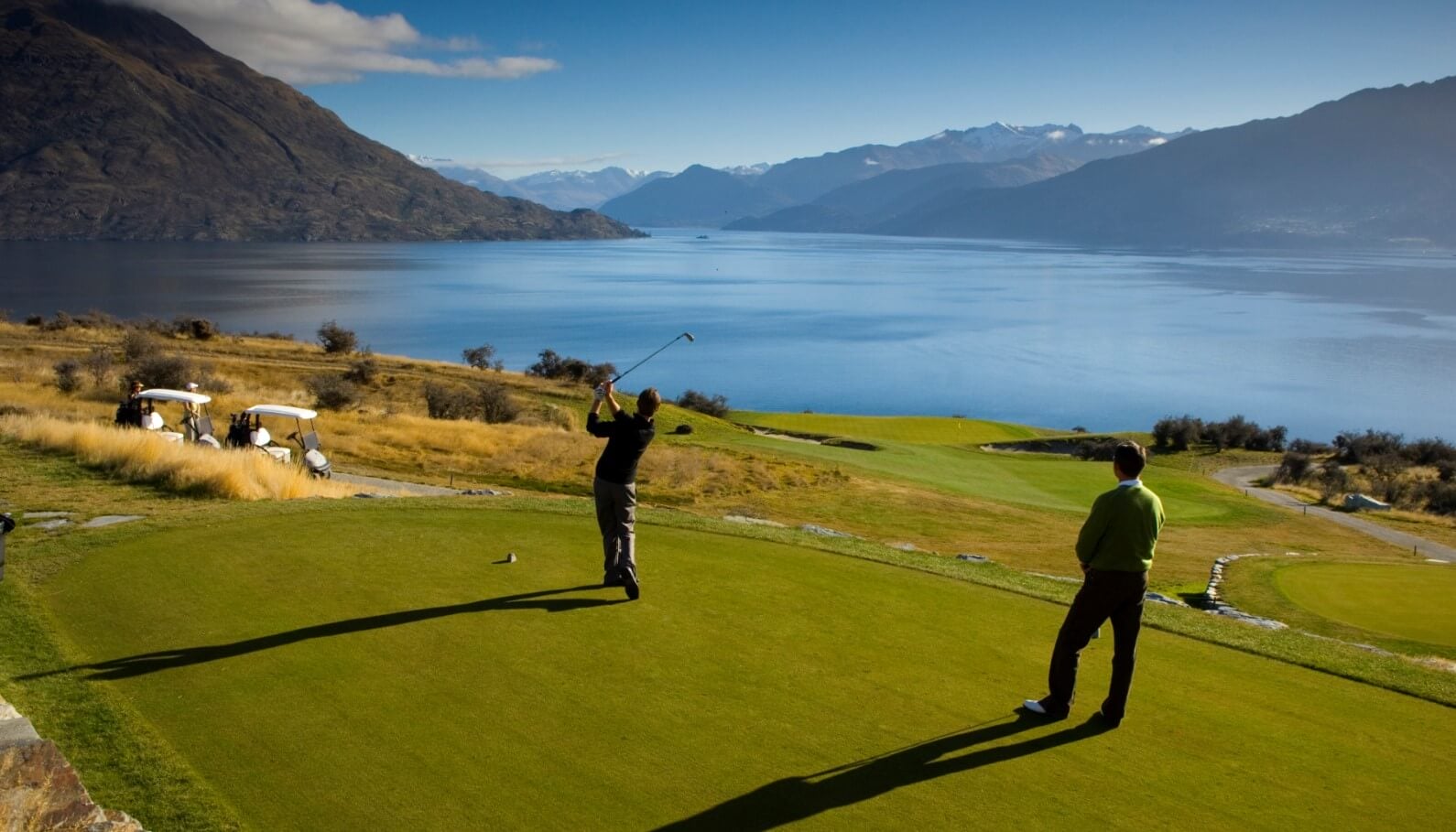 In addition to its outdoor activities and golf courses, Queenstown is also known for its excellent food and wine scene. Visitors can indulge in a wide range of local cuisine, including fresh seafood, lamb, and world-class wine from the nearby Central Otago wine region.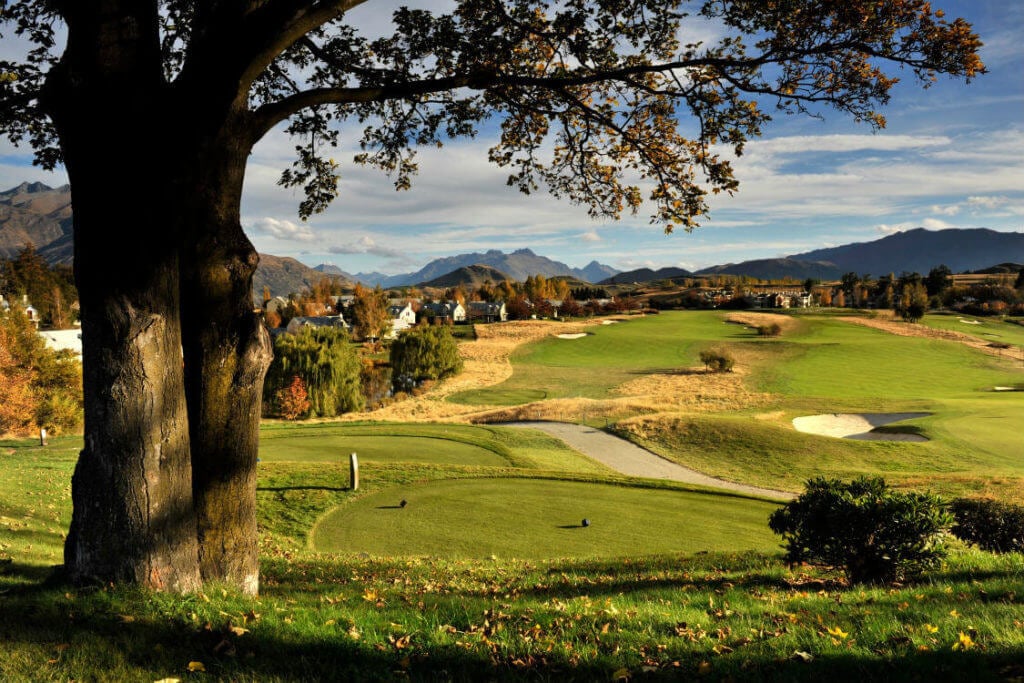 Overall, Queenstown New Zealand offers a unique and unforgettable experience for travelers seeking adventure, stunning scenery, and top-class golf courses. For those looking to take your Queenstown visit to the next level, see the top activities. Here are some of the best restaurants to enjoy during your visit to Queenstown.
Activities:
Wine tasting: Queenstown is surrounded by vineyards, and there are several wineries that offer tastings and tours. Some popular options include Amisfield Winery and Gibbston Valley Winery.

Scenic tours: There are several companies that offer scenic tours of Queenstown, including boat tours of Lake Wakatipu and scenic helicopter flights.

Golf: Queenstown has several world-class golf courses, including the scenic Jacks Point Golf Club and the luxurious Millbrook Golf Resort, but also Queenstown Golf Club, Arrowtown and Cromwell Golf Courses.

Spa treatments: For a relaxing day, head to one of Queenstown's many spas for a massage, facial, or other indulgent treatments.
Restaurants:
The Grille by Eichardt's: This upscale restaurant offers stunning lake views and a menu that includes fresh seafood and locally sourced ingredients.

Botswana Butchery: This steakhouse serves some of the best cuts of meat in Queenstown and has an extensive wine list.

The Bunker: This cozy restaurant serves up delicious European-inspired cuisine, including lamb and venison dishes.

The Bathhouse: Located on the waterfront, this restaurant offers stunning lake views and a menu that features fresh seafood and New Zealand-inspired dishes.
Overall, Queenstown has something for everyone, whether you're seeking adventure, relaxation, or delicious food. Be sure to add these activities and restaurants to your itinerary for an unforgettable trip to enhance your Golf Week Experience. Read more about Queenstown Golf Week 2024 here.