One lasting impact of COVID-19 on most countries, or rather, their borders, resounds across the world: they remain shut. Across the US, many states have begun easing lock-down restrictions. The United Kingdom's Prime Minister Boris Johnson looks to return to office after a bout with the Corona-virus; his Government is moving discussions toward the light at the end of the tunnel. In Australia, every state and territory except Victoria and the Northern Territory can play social golf while observing social distancing rules. Domestic golf travel may be the light at the end of the tunnel.
One key theme has prevailed in each country's border discussions for the next few months: international travel will be heavily restricted to essential work only. The days of browsing the internet for your next international golf trip are over for the next little while, but there is a silver lining.
As countries begin lifting internal restrictions, the gradual awakening of state borders and businesses will domino throughout the accommodation, services and recreational industries. This bodes well for domestic travel and domestic golf in particular. For areas prone to seasonal natural disasters, the silver lining may come later in 2020 when golfers look to play in their own countries where they have not explored for a long time, if ever.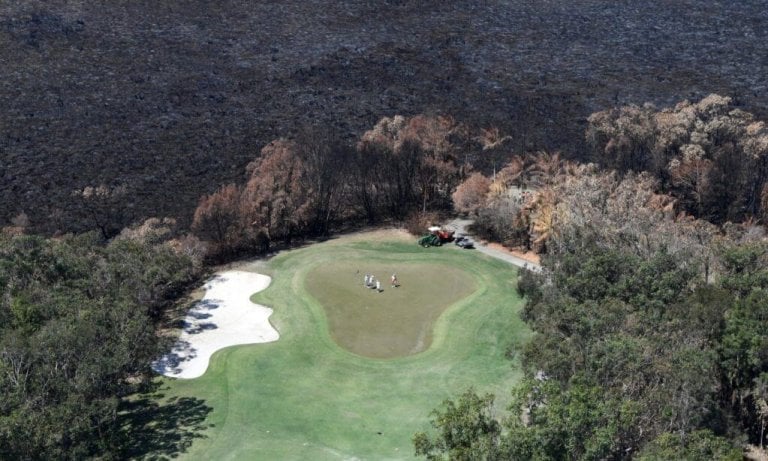 Domestic travel may come as a blessing in disguise for fire-stricken regions in Australia, The US and Spain; where past droughts and damaged areas have resulted in few inbound travellers for some destinations, the restriction on international travel may spark internal golf trips and generate much-needed income for struggling golf destinations.
The most rewarding aspect of planning a golf trip to disaster-stricken areas is knowing that you are contributing to shocked communities' economies in a more valuable way than donating to charities. Struggling regional golf clubs and isolated golf resorts will need golfers on their fairways by the time state borders reopen, so the only question remaining is why not?
Regardless of your intentions to travel for golf either internationally or domestically, the fact that international travel is compromised between most countries for the remainder of 2020 is unavoidable. As the saying goes, when one door closes, another door opens. So it is with travel in 2020 and the first years of the 2020s.
When the world recovers from COVID-19, it will not be the same as in previous years. Consider social distancing requirements, stricter public gathering rules and travel systems the new norm. The Sun released an article outlining possible solutions for planes with plastic dividers separating passengers in all classes. Your next plane trip may be very different from your last if these designs come to fruition, or you might consider a simple domestic golf trip in the face of these uncertainties.
While the future of travel may look disheartening, consider the wonders of your own country or nearby countries. Executive Traveller released a welcome ray of hope for Australia and New Zealand, citing a possible reopening between The Tasman Sea before other international borders open. A New Zealand golf trip may be your best bet for an overseas holiday if travelling from Australia or vice versa; at least the plane trip won't be far.
Plan your next trip
Request a Listing – Do you want to play or research a golf course that you can't find on our directory? Email us to request a listing or more information.
Explore your country's golf offers here.