| | |
| --- | --- |
| Best time of year to visit | Summer: October - April |
| Closest Major Airport | Queenstown International Airport (15-min drive) |
| Best Luxury Accommodation | The Carlin Boutique Hotel |
| Best Mid-range Accommodation | Crowne Plaza, an IGH Hotel |
| Best Budget Accommodation | The Ramada Hotel |
| Prices from: | NZD 1,200 |
| Tipping? | Not mandatory in New Zealand |
Known as the adventure capital of the world, New Zealand's Queenstown has it all, including world-class golf. Known as the ideal location for adventure travellers, Queenstown suits lovers of the outdoors, with plenty of options to choose from. Courses include Millbrook's Coronet and Remarkables, as well as the famous Jacks Point. Other golf courses you can play in Queenstown or nearby Arrowtown include Arrowtown Golf Club, Cromwell Links and Queenstown Golf Club. Although you can stay anywhere between Arrowtown and Queenstown, we recommend staying within walking distance of the restaurants, shops and amenities to minimise traffic and to ensure you are always near the action. Queenstown is the perfect getaway destination for short and longer stays, with travellers often using it as a base to explore Milford Sound or Wanaka which lies one hour to the north. Queenstown is one of our favourite places in the world, with six world-class golf courses all just a short drive away.
We recommend visiting Queenstown during summer months. This tends to be between October to April, with the best months to visit being January – March within that summer block. Weather can be unpredictable in New Zealand due to its location close to Antarctica. For golfers, we wouldn't recommend travelling to Queenstown between May – October due to wintery conditions. Shoulder seasons and best prices are between October – November, or April-May. Peak season in Queenstown for golf is December – March, with the highest prices reserved for February due to best weather patterns.
These Travel Packages are samples only. All trips will be customised to suit your needs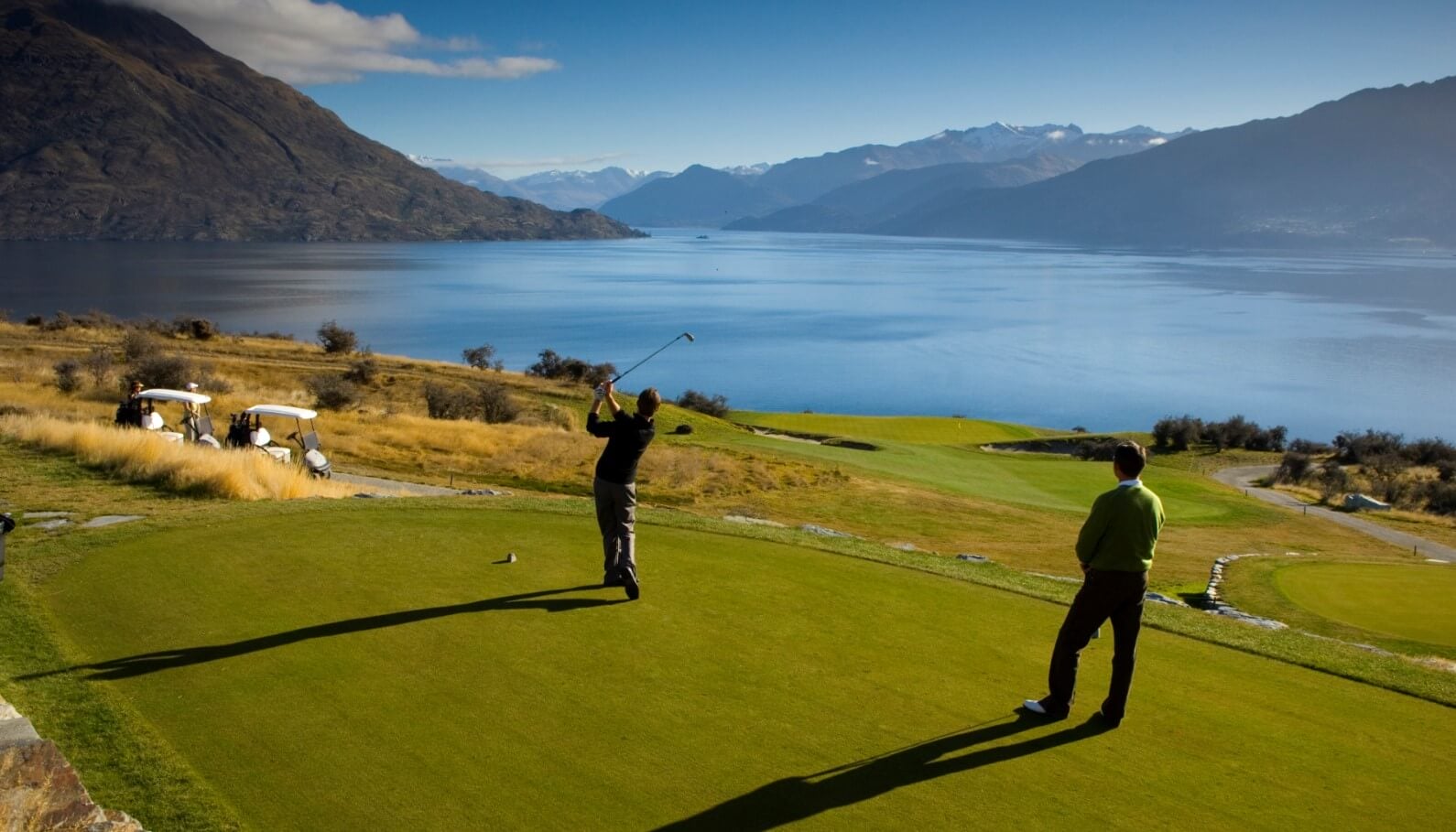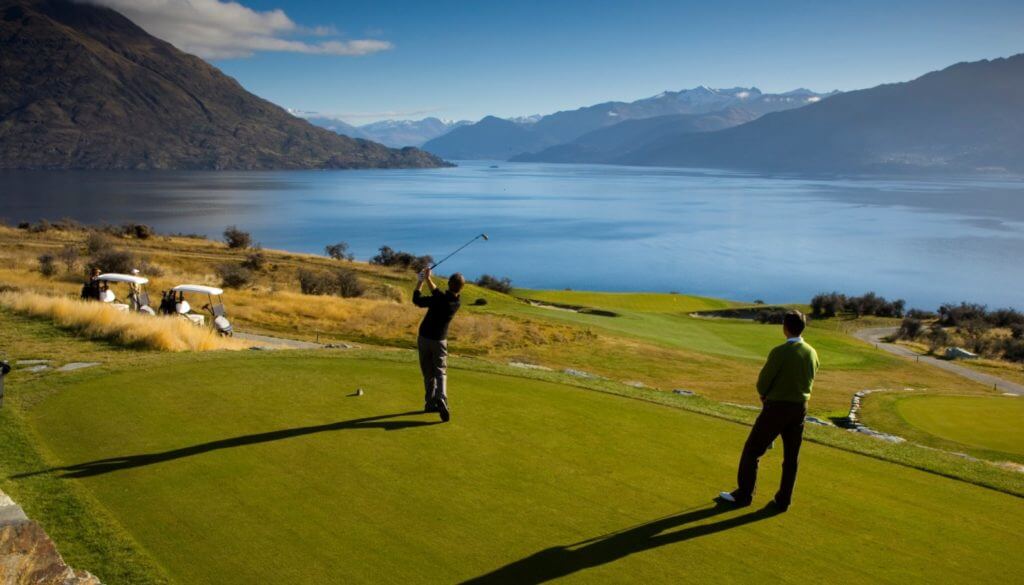 We work with a range of hotels, apartments and private houses in Queenstown. Here is a definitive list:
Luxury Accommodation in Queenstown
Eichardt's Private Hotel
The Carlin Hotel
Azur Luxury Lodge
Matakauri Lodge
Hotel St Moritz
Mid-range Accommodation Options
Novotel Queenstown
QT Apartments
Crowne Plaza Hotel
Sofitel Queenstown
Hilton Queenstown
Budget Accommodation Options
Ramada Queenstown
Copthorne Hotel Queenstown
Highview Apartments
Millennium Hotel Queenstown
Shotover Jet Boat Ride (Included)
Queenstown's renowned Shotover Jet was established in 1965 and has contributed significantly to Queenstown's reputation as the adventure capital of the world. The boat roars through canyons, around rock formations and dangerously close to rocky shores. You can expect gravity-defying 360 degree turns, 90-kilometre-an-hour wall-to-wall canyon action. Each ride goes for approximately 25-minutes.
Queenstown Cable Car (Skyline Queenstown)
Over 450 metres high, Skyline Queenstown, is the steepest in the Southern Hemisphere. Offering panoramic views over Queenstown, Lake Wakatipu and the snowcapped Remarkables mountain range. While up there, have a snack or coffee from the bar, or take a thrilling ride on the luge (only for the able-bodied!)
Glenorchy
Considered one of the most scenic drives in the Southern Hemisphere, Queenstown to Glenorchy follows the edge of Lake Wakatipu west then north, with mountains offering a high horizon, and the shore of the lake coming and going with the snaking road. Ancient beech forests, pristine lakes and rivers combine to make the small town of Glenorchy a stunning destination. It sits at the southern edge of Mount Aspiring and Fiordland National Parks, with many filming locations for The Hobbit and Lord of the Rings movie. The drive is 45-minutes one-way; we recommend having a picnic or pub lunch in Glenorchy and exploring the Dart River area during your half-day trip.
Arrowtown
Quirky, charming and rustic, Arrowtown is a picturesque little village just 20-minutes from Queenstown. The main street feels magical, it showcases its mining-town heritage with an old-world Western façade. Full of fantastic shops, galleries, restaurants, bars and scenic walks, Arrowtown is a must-visit destination.
Wanaka
Just over an hour's drive from Queenstown lies the wonderful lakeside town of Wanaka. It is a great destination for a day trip if you depart early; the drive through the southern alpine region is sensational in every season. You can explore the Gibbston Valley and Kawarau Gorge, as well as a nice lunch in the Wanaka region with a stop-off drink and nibble at the iconic Cardrona Hotel pub.
Customise Your Golf Holiday
Why Book with Voyages.golf?

Our reviews & client testimonies are independently gathered by the world's leading review platform: Trustpilot. How many testimonials do you see that are fake? We've removed that possibly by partnering with Trustpilot.
The Best Golf Experiences in this Region
Frequently Asked Questions
What is the benefit of booking through you?
Voyages.golf has a team of travel agents with a wealth of expertise. If you are travelling to an unfamiliar area, our knowledge might be the difference between a good or bad time. 
Voyages.golf also has premium access to preferred tee-times at hundreds of golf courses, and through our network of partners, access to cheaper rates for accommodation, rental vehicles and sightseeing tours. 
Whether you have a group of mates travelling together, or don't have time to organise it yourself, our team of friendly experts are always ready to help organise your trip.
What are your payment terms?
Generally for a self-led trip, we require a 25% deposit to confirm, with the balance due 90 days prior to departure. This schedule can change depending on the destination and timeline for booking.
How do I book?
The first step is to click the enquiries button to contact one of our agents. We will get back to you within 24 hrs.
After that, we'll ask a few basic questions to get an idea of what you are looking for, your trip budget and dates of travel.
Then we'll work out a free quote for your trip turn it into a booking once you are satisfied with the itinerary and details.
Our invoices and booking confirmations will come after the itinerary is set and availability of the golf courses confirmed.
Once I've booked, are you available during our trip?
Absolutely. Provided with your booking are contact details with a number to call or an email to reach out if there are any issues with your trip. These can amount to check-in difficulties at hotel, missing your transfer or missing your flight. Our friendly agents will be there every step of the way.
I want to book extra travel, can you help?
The team at Voyages.golf are not only golf travel specialists. We can arrange everything including:
Bus tours & cruises
Sightseeing tours
Rental vehicles
Extra accommodation
Travel insurance
Major events
Sporting events
Private tours