New Zealand's most iconic golf course: Cape Kidnappers, will close for the first half of 2022 to undergo a major refurbishment.
The legendary course was designed by American Tom Doak, opening for play in 2007 and has since turned heads in the golfing world with its lofty heights and dazzing holes across the North Island's Hawke's Bay. Owned by Robertson Lodges, the same family behind the Bay of Islands' Kauri Cliffs Lodge & Golf Course, Cape Kidnappers is the second working farm started by Julian Robertson. Kauri Cliffs opened in 2001, just six years before Cape Kidnappers. Both courses are ranked in Golf Digest's World Top 100 Courses (Cape Kidnappers #22, Kauri Cliffs #43). 
Commencing in January of 2022, the six-month renovation at Cape Kidnappers Golf Course will consist of a full greens renovation between January 5th and May 5th 2022. The renovation of the greens must be undertaken in the summer months due to the climate of Hawke's Bay: the winter months are too cool for growing-in of greens and the tentative border closures of New Zealand due to ongoing Covid-19 developments has forced this renovation to occur. From September 2022, the Cape Kidnappers golf course is expected to reopen to international golfers with new greens after winter ends, ready for a busy end to the year. It is expected the lodge will remain open for guests during this time.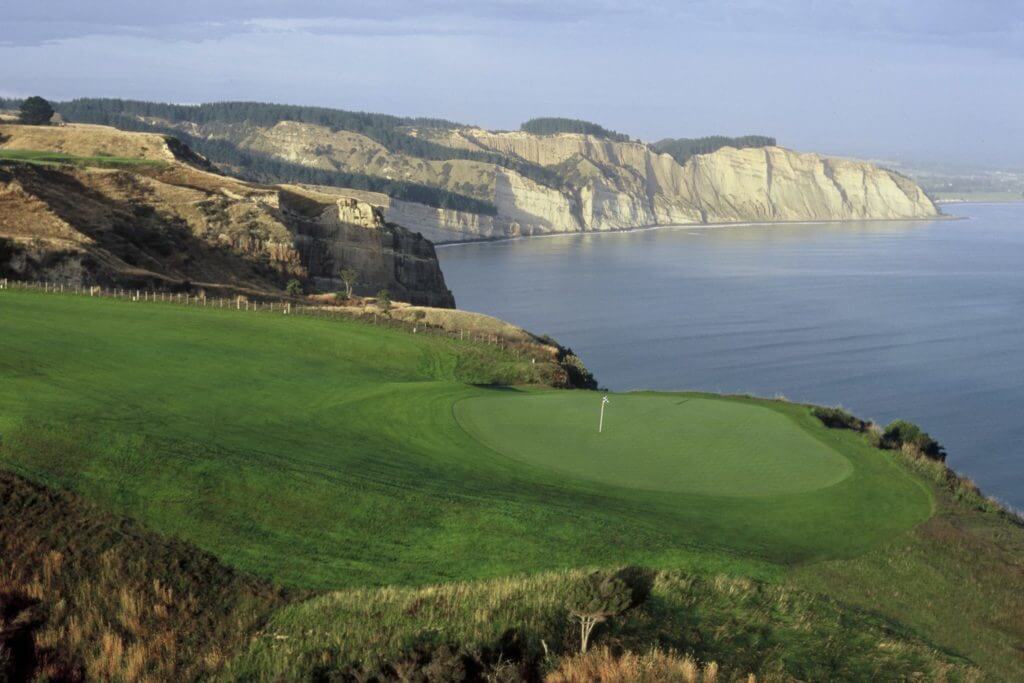 Where is Cape Kidnappers?
Located on New Zealand's North Island, Cape Kidnappers is situated on the south side of Hawke's Bay, a prominent wine growing region on the Island's east coast. The golf course and luxury resort are a long way from any major city and it is cherished for this remoteness. The Resort is a 4.5 hour drive northeast from the capital Wellington, and a 5.5 hour drive southeast from the country's biggest city. If coming from Auckland, be sure to stop at Taupo and play the famous Kinloch Club (Jack Nicklaus design) and Wairakei Golf Sanctuary (one of the world's prettiest golf courses). Another option is to fly to the regional airpot at Hawke's Bay which is just a 45-minute drive from Cape Kidnappers Resort.
How can I play Cape Kidnappers?
With Covid-19 travel restrictions not lifting until April 30 2022, according to the NZ Government, the best time to visit Cape Kidnappers will be towards the end of 2022 when the southern hemisphere emerges from winter. Voyages.golf has a tour running from Wellington to the Bay of Islands via Hawke's Bay, Lake Taupo and Auckland. This signature golf tour provides the best value for money in its incorporation of world-class golf, knowledgable tour hosts and easy mode of transport. After the Cape Kidnappers renovation, we expect the golf course to be in the best possible condition for this golf tour. If you prefer doing your own thing, check out our luxury Hawke's Bay sample golf itinerary here.